Message from our Founder:
Dear YoloFoods Community,
Today marks our 8th anniversary, and I am overwhelmed with gratitude for your unwavering support. When we started YoloFoods, our goal was to make healthy eating convenient and enjoyable, and your trust has been the driving force behind our journey, and what a journey it has been! Your loyalty, feedback, and stories of success inspire us daily and allowed us to improve our services and products. Our dedicated team and I promise to keep delivering the finest, most nourishing meals to your doorstep. Thank you for being the heart of YoloFoods, and here's to many more years of sharing health and happiness together.

With heartfelt appreciation,
Alex
Founder, YoloFoods

Earn 2X more YoloCoins for each order placed during our Birthday Sale from 14 - 31 August. YoloCoins are automatically added to your account upon each successful purchase.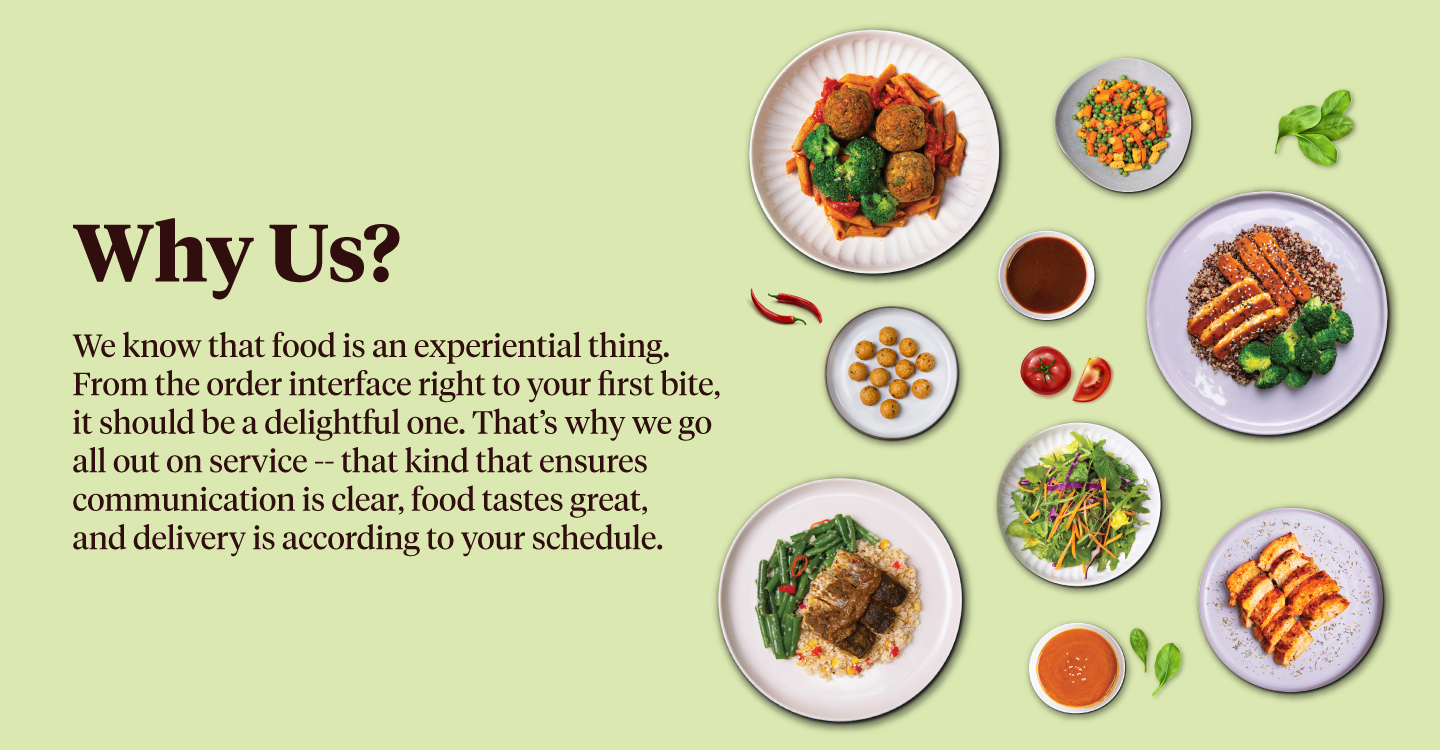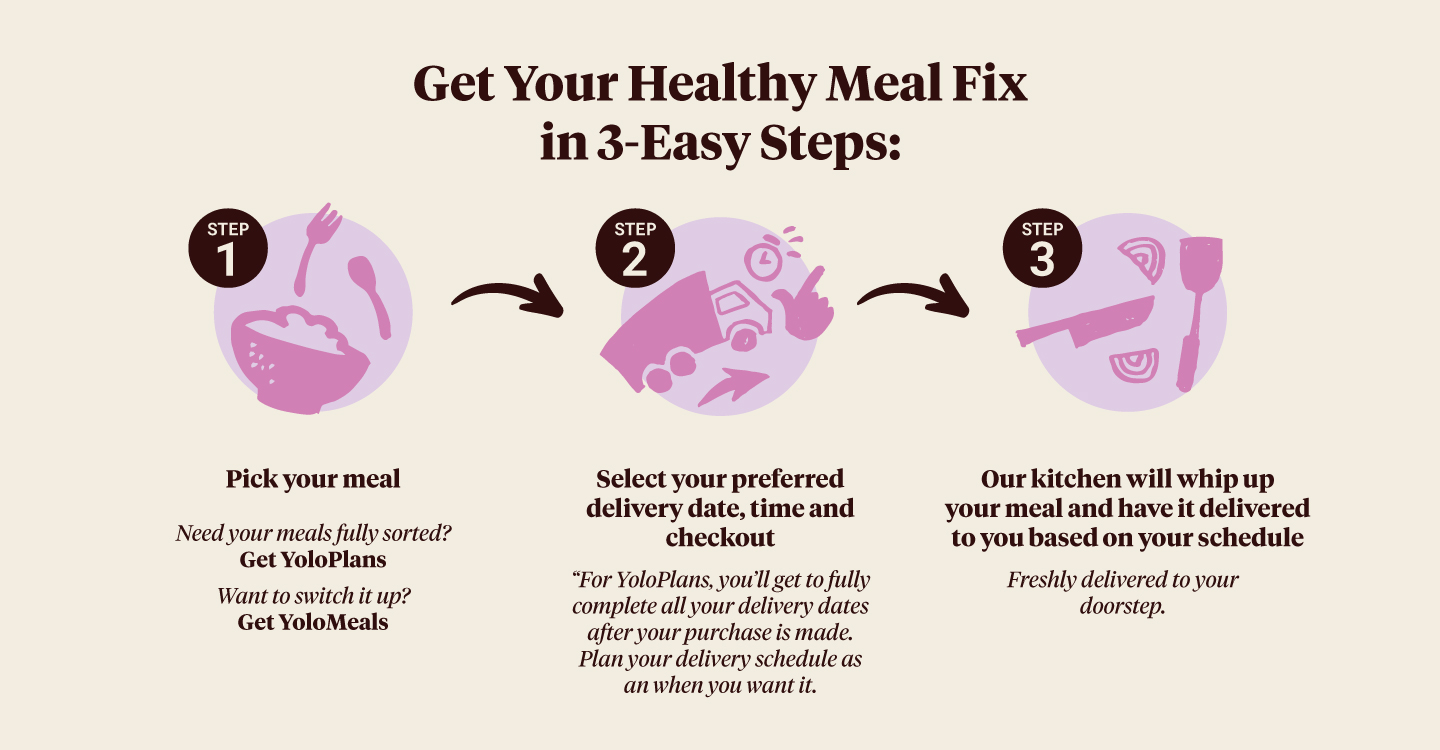 This voucher is valid Sitewide
Does not apply to Shipping.
Not valid together with other ongoing promotions or discounts.
Discounts are non-stackable unless stated otherwise.
Refunds are only allowed subject to approval, and will not include meals that were already delivered, unless claims regarding food quality and defects.
YoloFoods reserves the right to amend, remove, or invalidate any terms stated above at its sole discretion and without prior notice.
Yes we do! We currently accept the following requests:
No beef / lamb
No seafood
No spicy food / chilis
No nuts
No dairy
Remove specific vegetable or food ingredient you do not like.
In order to meet your dietary requirements, your meal may be replaced with another meal which may not be on the day's menu. The replacement will be subject to availability.
If you have kept your product chilled, you can warm it up with a pan/oven/microwave for a
duration of 3 minutes. If your product is frozen, we recommend warming it up for 8-10 minutes.
Your YoloMeals can be kept for 5 days if kept chilled in the fridge between 1 to 5 degrees. If you keep the items in the freezer, it can last for up to 2 months.
Please check the individual labels for storage instructions.
Two (2) working days (excluding public holidays) - (before 12.00pm) are required to process your orders and our friendly customer service will contact you to confirm your orders and schedules.
For all online orders, you will be billed directly on the website and Yolo Group will be the name of the company that appears on your payment records.
All online orders for YoloPlans,YoloMeals and YoloEats made after 12.00pm on Mondays through Thursdays will be processed on the next business working day.
YoloPlans,YoloMeals and YoloEats orders received after 12.00pm on Friday will have the following Tuesday as the earliest delivery day available. However, if a Public Holiday falls on Monday, then the order will be out for delivery on a Wednesday
5 day Meal Plan - 2 weeks from the date of purchase.
10 day Meal Plan - 4 weeks from the date of purchase.
30 day Meal Plan - 10 weeks from the date of purchase.
You are free to select any weekday for delivery of your meal plan within the validity period above, it doesn't necessarily have to be consecutive days.
Once you place your order for your YOLO Meal Plan, you will receive two emails:
1. Order notification with your payment receipt.
2. Once your order is confirmed, you can head over to My Profile page to view your YoloPlans order. There you can begin scheduling the remaining delivery dates (2 working days in advance). You do not have to choose consecutive days, and can spread out each delivery date to fit your schedule.
3. Once we have received your delivery date submission, you will receive your delivery date confirmation email from our Customer Care team (this email can sometimes land in your spam, so be sure to check).
Yes, please inform us at least 2 working days in advance before the cut off time of 12.00 pm. We are not able to accommodate any changes/amendment requests made after this period.